YOUR CUSTOMERS CAN WAIT IN LINE AT HOME WITH THIS QUEUING APP
Your customers no longer need to wait in a line up within your establishment. QBright is a queue management app for physical lines that let's your customers book and see their position in line right on their phone, so that they can go about their business while waiting.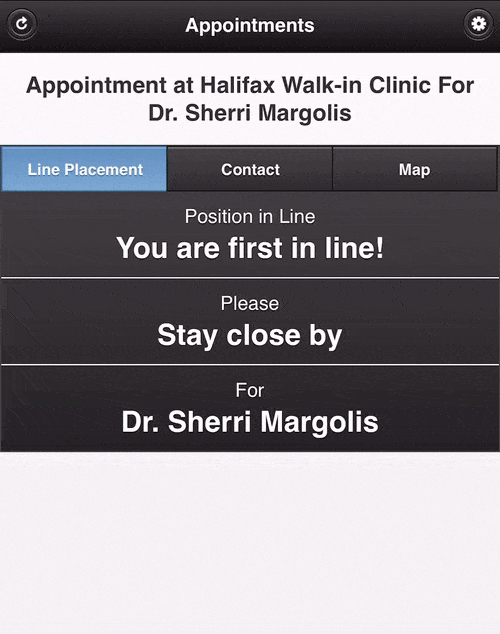 Right now you can start using the best queue management system at a great price. Try us now and get a monthly plan for just $50 a month and a 30 day money back guarantee. Signing up is free and fast, and if you choose to subscribe you can cancel the subscription at any time.
RETAIN MORE CUSTOMERS BY LETTING THEM WAIT IN A VIRTUAL LINE
Your customers will appreciate the choice of adding themselves to a line online or by calling ahead before their arrival.
Your business can win over new customers by using technology that is a step above the rest.
Customers will feel more in 'control' when they can see continuous updates of their place in line right on their phone.
Join Waitlists Online
Join Waitlists by Phone
Join Waitlists Using a Kiosk
ADVANCED CUSTOMER REMOTE NOTIFICATION
QBright communicates with customers in multiple ways, including using a web application, SMS, and email. It does so by choosing the best method at a given moment while prioritizing the web application. The web application is able to update customer positions and wait times automatically so customers do not need to reload it manually. Also, When customers choose to use the web application they can access more information, such as their position relative to your business on a map.
Web App
SMS
Email
POWERFUL, YET EASY TO USE
QBright has been designed with ease of use in mind. Multiple customer queues can be managed from a single interface. With a single click you can promote customers in a queue, put them on hold, or cancel their appointments. You can do this easily on your cell phone or tablet, as separate user interfaces have been tailor designed for cell phones and for larger devices.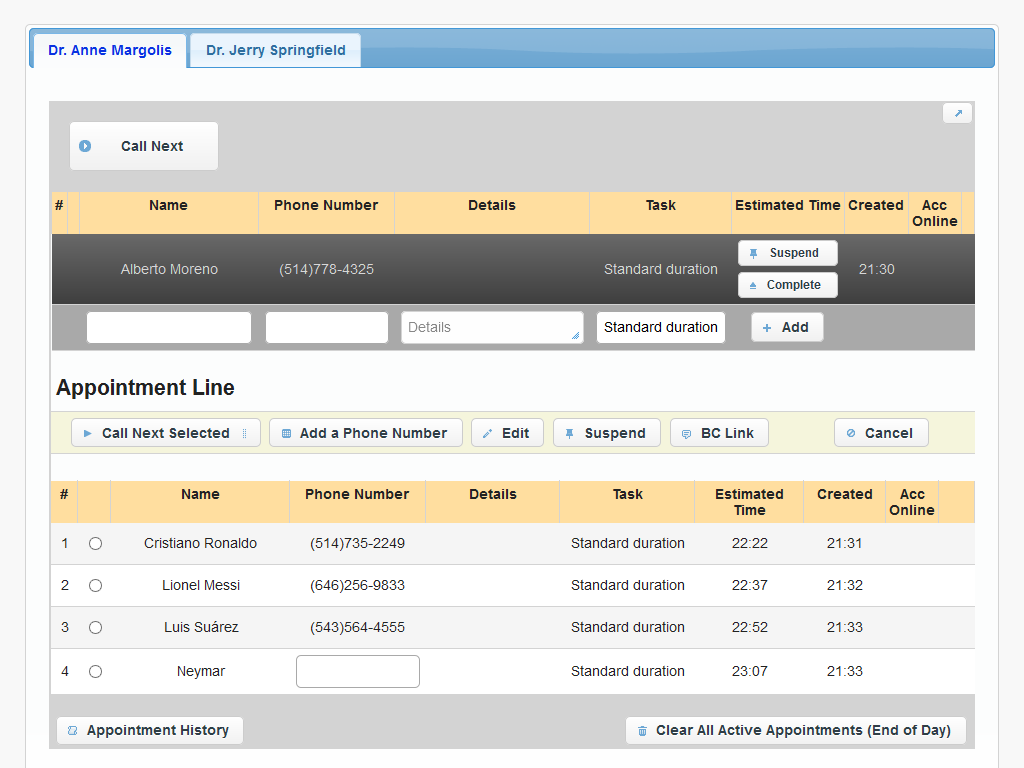 Manage Multiple Queues
Cell Phone, Computer, and Tablet Displays
Put Customers on Hold
PERSONABLE, CONVENIENT, AND ENVIRONMENTALLY FRIENDLY
QBright can use customer names for calling people into appointments, rather than a numbering system, which allows you to maintain a friendly and personal environment. This also means that you can choose to use a paperless appointment kiosk, or no appointment kiosk at all, which reduces your costs and maintenance.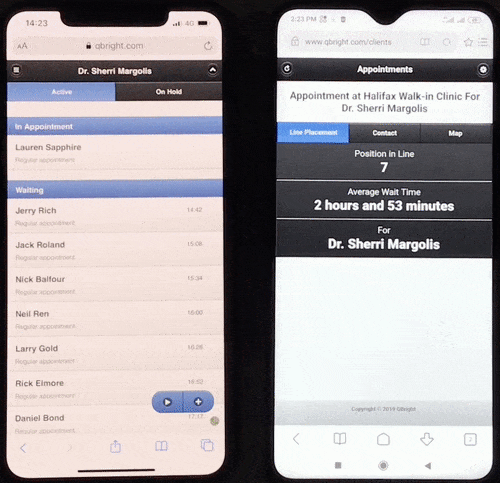 Small Businesses
Medium Sized Businesses
Large Businesses
WE HAVE SOFTWARE FOR LONG OUTDOOR LINES TOO
QBright can also manage large lines of people in cases where line turnover is too fast to call in one customer at a time. It does this by calling in multiple customers at once, thereby splitting long lines into smaller ones. Please contact us for further information as this feature is offered separately.

Read More
QBRIGHT CAN BE USED TO HELP SOCIAL DISTANCING EFFORTS IN YOUR BUSINESS IN WAKE OF THE COVID-19 PANDEMIC
Our queue management software can help you keep your customers and employees safer during the coronavirus pandemic, by letting your customers wait in line away from your business. The original QBright system can help Clinics, Veterenarians, Barber shops and many others. The 'QBright Crowds' system can help mitigate lines that form outside businesses that are filled to capacity, and others. It can be used for physical lines that form outside supermarkets and other shops due to shop capacity being reached, as well as for lines at cash registers. Please contact us by phone or email for more details.
PRICING
We recommend that you create a subscription now to lock in the currently offered prices. There is a 30 day money back guarantee and you can cancel a subscription at any time. If you need a larger plan than is offered here let us know.
Plans
| Plan | Price | No. of Customers per Month |
| --- | --- | --- |
| Basic | $50 ($80) per month | 3000 |
| Pro | $90 ($190) per month | 6000 |
| Enterprise | $190 ($390) per month | 14000 |
TRY US
Discover a better way to manage your physical lines while increasing customer satisfaction.
Need help? Contact us now